SOKO

The graphic insole "SOKO"
SOKO stands for "Stylish,Original,Kindly and Odorless."

We invited Mr. Satoshi Umeno as a design director and founded
our own Japan made brand, "SOKO".

SOKO shows the skill of our own. We have been improving kneading technique
for 50 years, and so, our blending skill can make full use of many kinds of materials.
This cork insole makes you stylish and gives you high-quality comfort inside your shoes .
Cork is antibacterial and odor-resistant.It is also eco-friendly since it is obtained
without cuttingdown trees and thus leads to the conservation of the forest.



CORK SHEETS

Cork is the outer bark of cork oak that grows from the Mediterranean to the Atlantic.
The cork oak is barked first at the age of about twenty years old when the truck is twenty
five centimeters. After this, cork oak is barked every nine years and it can be harvested
until two hundreds years old . So, cork is the ecological natural source that does not bring
exhaustion of the forest.



CHARM

In the rest of the sheet, we also make a novelty charm
for extra fun. You can enjoy putting it on your bag.
KIDS(Not included)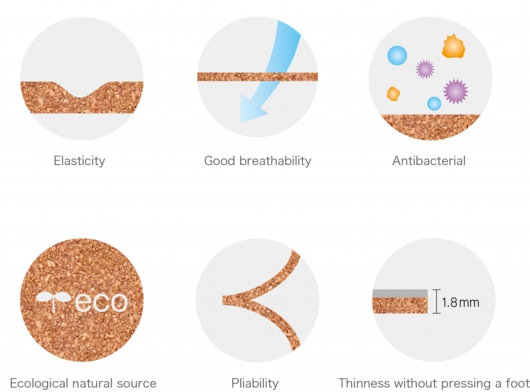 SOKO "KIDS"

SOKO stands for "Stylish,Original,Kind and Odorless.
"This insole is a fashion item for KIDS.
The base material is a thick CHEMIFELT BREATHE.
It is soft and also adjusts shoe size. It is superior in breathability ,
antibacterial and deodorization. Infants can enjoy completing apicture of creatures.
Please enjoy it in parent and child pair.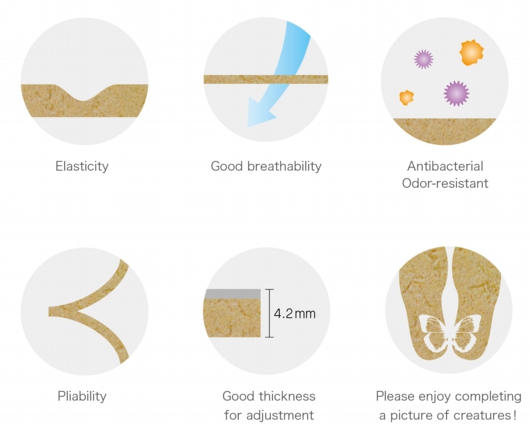 You can make your private insole with your own design in SOKO package.
・a novelty of company
・a your favorite drawing
・a souvenir of sightseeing spot
 About more details, do not hesitate to contact us.